I can tell I am feeling fidgety, I have been messing with the blog background again.
I start to get very twitchy at this time of year. I find myself frustrated by the lack of time and the quantity of things I would like to do, versus the things I have to do. Right now I must complete my assessments, marking and planning, ahead of next weeks return to work. We are 4 weeks off the SATs week. This is such a crucial time for school, due to the use made of the results by the powers that be. HOWEVER, the heart is yearning towards decorating and finishing the new hobby room.
Come through the new door.
Ignore the mess.
See the potential.
Imagine the magic that will be created in here.
I really want to be getting on with projects in progress. I have been playing with making naive style toys, using calico, dyes and paint to make simple rag dolls.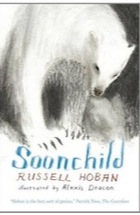 We all have a song inside.
I also have a range of needle felted animals, swimming inside my imagination, inspired by
this recent read.
Nanuk is singing.