Suffolk is perhaps best known for it's beer (Adnams and Greene King) it's nuclear power station (Sizewell, it dominates the landscape) and it's churches. The area was one of the earliest Christian strongholds in the newly established Anglo Saxon kingdoms and the sites for the churches of Suffolk are some of the oldest in the country- hence the predominating Saxon square towers and lack of spires. They have some of the finest
misericords
, pew end carvings,
grotesques, gargoyles
in East Anglia. We had a wonderful week visiting some of the churches in the area; thankfully the boys are not bored by this, they really enjoy looking for funny carvings, window pictures, little stairways and hidden rooms.
Iken Church is one of the oldest churches and has the remains of a cross, carved with curving and twisted patterns common to both the Celtic and Anglo Saxon craftsmen.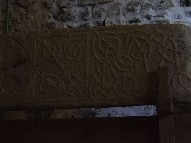 Thank you to Suffolk Churches site, Matthew's photo was blurry.
It sits on a little spit of land in one of the mud flat estuary channels. The air echoes with the sounds of curlew's lonely and eerie crys .
After we had visited the church we drove round to the other side of the estuary for a walk through the marshes and mud flats. This area of Suffolk is typical of East Anglia. A tidal estuary, bounded by reed beds and marshy fen, the mud flats are rich in foods and attract a phenomenal range of birds: egrets, dunlins, avocets, curlews, bitterns, reed warblers the list is endless. We were lucky to see egrets and dunlins feeding and two magnificent avocets flying along the shoreline.
Not only is the bird life rich, so too is the insect and others, we watched a freshwater crab bury itself into the mud and then snap at passing small fry. We lost count of the lizards basking in the sun. These were hilarious to watch. Either still as statues or skittering for the safety of the reeds.
Their colours ranged from blacks through blue flecked to brown and gold. Most were shy and ran off the minute our shadows crossed over them. One however, was quite different, flirting with the Camera and showing off her best side.
"I'm ready for my close up Mr de Mille!"




After all these sites, as well as a range of flowers, bees, butterflies (sadly too few, but autumn is coming early this year) we returned to the carpark. Here there is a replica of the cross that is on display in Iken church. On this sculpture we found the most magnificent moth, about the size of an adult thumb.
We had mainly good weather all day and the walk was varied and interesting. The boys loved picnicking on the bank of the Estuary. The opportunity to get very dirty was just an added bonus. There were sticks to collect and pretend were everything from swords to wands (Harry Potter being Matthew and John's current passion), there were insects and small creatures in abundance to ferret out and watch. There were lots of flowers to find and photograph.
They seek him there, they seek him there...